Dry Slides
Backyard Slide
This 16 foot slide is the perfect slide for smaller areas or to add to a basic jump house. The Backyard Slide offers fun for all ages (up to 200 lbs.) and separate climb,slide area, and safety net for sit down-only sliding!
---
Giant Double Slide
Two lanes of super-fast fun! Moms and dads will enjoy this 24 foot giant slide. Just be sure the little ones get their turns, too!
---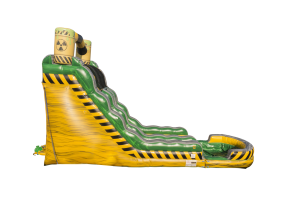 20′ Toxic Double Slide
This 20 foot Double Slide is great for all ages. Pair it with the Toxic Wipeout for your next Toxic event, and be sure to contact Sun Country Amusements in Savannah to find more party rentals.
---
Spider Mountain
This is a great item for festivals, corporate, school, church, or any other large events. Participants will climb up the webbing all the way to the top and then slide down the giant 24 foot inflatable slide.
---
20′ Speed Slide
The perfect slide for all seasons. This super fast slide will accommodate all ages. Rent by itself or add it on to another item to create your fantastic event.
Ready to learn more? Contact us online for assistance, and be sure to pair the best games with a slide for your next event!