Dry Slides
BACKYARD SLIDE
This 16′ slide is the perfect slide for smaller areas or to add to a basic jump house. The Backyard Slide offers fun for all ages (up to 200 lbs.) and separate climb and slide area and safety net for sit-down only sliding!
---
GIANT DOUBLE SLIDE
Two lanes of super fast fun! Moms & Dads will enjoy this 24′ giant slide. Just be sure the little ones get their turns too!
---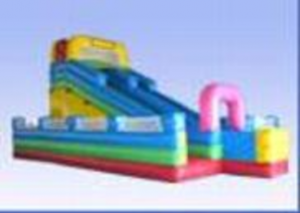 X-TREME OBSTACLE  CHALLENGE SLIDE
See how fast you can race through the challenging obstacles to get to the top of this giant slide. Awesome fun for ages 5 and up.
---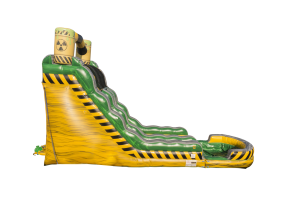 20′ Toxic Double Slide
20′ Double Slide. Great for all ages. Pair it with the Toxic Wipeout for your next Toxic event.
---
SPIDER MOUNTAIN
This is a great item for festivals, corporate, school, church or larger events . The participants will climb up the webbing all the way to the top and then slide down the giant 24′ inflatable slide.