Games
Octodome
5-IN-1 Sports Challenge
Challenge your friends to a jousting match, go a round of bouncy boxing, get a volleyball game going, play basketball, or just jump like a kid in this new and very interactive inflatable sports stadium. This inflatable rental is great for group events of ALL ages!
---
Soccer Darts
Add the largest dart board in Georgia to your next event. Players of all ages can kick or throw darts (velcro soccer balls) for a big game of Cricket (scoreboard included). On the back of this 25′ board is a game of Soccer Baseball.
---
Kentucky Derby Racing
Race down the 75′ four-lane track to see whose bouncing horse is the fastest. Horses come in small, medium, and large for any age to race. These inflatables are great for some ridiculous fun.
---
Zorb Ball Racing
Outroll your opponent and see who can zorb the fastest down and back the 75′ racetrack.
(Actual track has three bumps to get over and no center piece so you can interfere with your opponents' progress)
---
Inflatable Midway Games
Step right up and play at the "Inflatable Midway." This 4-games-in-1 inflatable rental is perfect for carnivals, fundraisers, and backyard parties. All games are easily accessible for most ages and even easier to operate. Games include Hat Trick, Tic-Tac-Toe, On Point, and Hoop Shot.
---
Tic-Tac-Throw
See who can get tic-tac-toe with three in a row first. This inflatable game can also be changed to  a "win every time" game!
---
Human Slot Machine
Stand inside a giant, inflated slot machine and see how much cash you can grab as it flutters around you. A hilarious, fun game for adults and children alike! Especially great for company picnics, promotions, and so on. This exciting party rental can be played to win cash or prizes.
---
Birdie Ball Hole-in-One Challenge
For the ultimate corporate activity or fundraiser, be sure to have this challenging golf game at your next event! This is a great way to give away small or large upscale prizes or raise big bucks for your group. These are super popular at PGA golf tournaments and activities. Great for all ages (Especially the dads!). Comes with clubs and the most unique "golf balls" you will ever see!
---
Jacob's Ladder
Can you make it to the top of this rope ladder? Many have tried, few have succeeded! But the challenge of this inflatable rental sure is fun. This is a GREAT fundraising game to add to any carnival!
---
Speed Pitch
See how fast your pitch is with our inflated pitching alley. The radar gun lets you know how fast your pitch is! Perfect for ball team practices/parties or fundraisers. If you're a soccer player, this can be changed to test your kicking skills.
---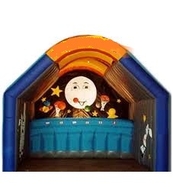 Spaceball
Throw balls at floating planets and try to knock them to earth! An inflated house that's a fun game on any planet.
---
Carnival Games
These vinyl games make a great addition by offering an old-fashioned favorite to your event. Ask about our special price when added to any inflatable rental!
---
Kiddie Clown Hi-Striker
Let the little ones show off their strength with this cute clown striker. This inflatable is a great addition to every carnival, picnic, fundraiser, or birthday party.
---
Giant Inflatable Twister
Right hand on red, left foot on blue. Same old game,still as much fun in a much larger format! From preschoolers to teenagers to the adults that used to play, you can utilize this party rental for great entertainment for everyone!
---
Criss-Cross Basketball
This amazing new game will have everyone getting in the game. When a player gets a basket, the ball goes to the other players side. The first player to get all their balls on their opponents side wins!
---
Giant Connect
Giant Connect 4 adds entertainment for all ages. Challenge your kids to this strategic game.
Disclaimer: Not as easy as it looks. Adults may lose to their kids!
---
Tag The Light Crazy Cones
Looking for a fast paced high energy game? Our Tag The Light Crazy Cones will be the next new exciting game your guests haven't seen or played. This game doesn't require any electricity and also is a great game of hand and eye cordination.
With the crazy pylon cones you can think of endless possibilities! For example, you can use the pylons for a football training, crossfit exercises, school P.E games or just high energy fun!
Ready to rent your party inflatables in Savannah or the surrounding areas? Contact us today for complete results!