Interactive Inflatables
ZORB BALL RACING
Outroll your opponent and see who can zorb the fastest down and back the 75′ racetrack. Actual track has 3 bumps to get over and no center piece so you can interfere with your opponents progress.
---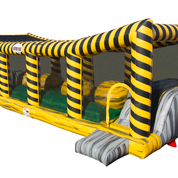 TOXIC WIPEOUT
Can you make it across the course without wiping out? Four inflated balls make it a challenge to reach the other side. Participants can challenge themselves unit they have mastered the field.
---
LAZER MAZE LIGHT TAG
Teams or individuals challenge to score the most points by finding and tagging their lights. Can be set up indoors.
---
OCTODOME
5-in-1 sports challenge
Challenge your friends to a jousting match, go a round of bouncy boxing, get a volleyball game going, play basketball or just jump like a kid in this new very interactive inflatable sports stadium. Great for group events of ALL ages!
---
KENTUCKY DERBY RACING
Race down the 75′ 4-lane track to see whose bouncing horse is the fastest. Horses come in small, medium and large for any age. Great for some ridiculous fun.
---
GLADIATOR JOUSTING
Knock your opponent off their pedestal and win! Lots of fun and laughs with a good, clean fair fight! Best for ages 7+.
---
BOUNCY BOXING
Anyone can be a champ in this crazy boxing ring! Contenders use jumbo-sized boxing gloves to battle each other! Ridiculous fun for all ages.
---
BUNGEE RUN
Race your opponent while attached to bungee cord! Sounds easy? Give it a try. Best for ages 7 – adults.
---
Crazy Caterpillar
This friendly caterpillar offers climbing, sliding and obstacle fun with some room to bounce too! Great for ages 1 – 10.
---
SPACESHIP MAZE
The aliens have landed and they invite all kids to come explore their ships' secret mazes within!
---
TWISTER
Retro game with an inflatable 'twist'.