Interactive Inflatables
Zorb Ball Racing
Outroll your opponent and see who can zorb the fastest down and back the 75 foot racetrack. Actual track has three bumps to get over and no centerpiece, so you can interfere with your opponent's progress.
---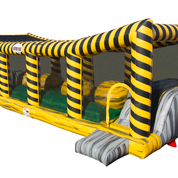 Toxic Wipeout
Can you make it across the course without wiping out? Four inflated balls make it a challenge to reach the other side. Participants can challenge themselves unit they have mastered the field in this fun party inflatable.
---
Lazer Maze Light Tag
Teams or individuals challenge to score the most points by finding and tagging their lights. This fun party rental can be set up indoors.
---
Octodome
5-in-1 Sports Challenge
Challenge your friends to a jousting match, go a round of bouncy boxing, get a volleyball game going, play basketball, or just jump like a kid in this new, very interactive inflatable sports stadium. Great for group events of ALL ages!
---
Kentucky Derby Racing
Race down the 75 foot four-lane track to see whose bouncing horse is the fastest. Horses come in small, medium, and large for any age. This inflatable game is great for some ridiculous fun.
---
Gladiator Jousting
Knock your opponent off their pedestal and win! Lots of fun and laughs with a good, clean, fair fight! Best for ages seven and up.
---
Bouncy Boxing
Anyone can be a champ in this crazy boxing ring! Contenders use jumbo-sized boxing gloves to battle each other! Ridiculous fun for all ages.
---
Bungee Run
Race your opponent while attached to a bungee cord! Sounds easy? Give it a try, and let the fun ensue. Best for ages seven through adult.
---
Crazy Caterpillar
This friendly caterpillar offers climbing, sliding, and obstacle fun with space for plenty of bouncing! Great for ages one through 10.
---
Spaceship Maze
The aliens have landed, and they invite all kids to come explore their ships' secret mazes within! Let your little ones enjoy this inflatable maze for a mysterious adventure!
---
Inflatable Twister
Retro game with an inflatable 'twist." Bring challengers of all ages with this interactive inflatable game.
---
Area 51 Escape Room
COMING SOON Can you get out of the Area 51 control laboratory before it's too late? You have 15 minutes to figure out the puzzles that lead to your escape or the lab will be overcome with toxic gasses. (actually fog). A great game for all ages!
---
Ready to reserve your inflatable fun? Contact us today to learn more about our party rentals in Savannah and the surrounding areas!