More Party Fun
Glitter Tattoos
Add some sparkle to your event with Glittertainment tattoos. These waterproof tattoos will last 3 to 7 days. and are just as much fun for adults as they are for kids!
---
Spin Art
Squirt the paint, spin, and create a work of art! A great craft idea to add excitement to any party or group function. Create 3×5 prints, puzzles, flying discs, or T-shirts!
---
Block Rocker Sound Station
Connect your Bluetooth music source to rock out the yard with our Block Rocker. Comes with a microphone so you can sing along or make party announcements. Only $40.00!
---
Partyware
Don't worry about running around to pick up your party supplies. Our Savannah party rental specialists can bring it to you!
---
Photo Booth
Let your guests know they're truly special. Send them home with a picture of themselves and their friends! Make it even more Memorable by placing a Personalized Message or Logo and Date on their photo. Our two station Photo Booth takes pictures on the inside or a backdrop and be set up for use with the outside camera.
---
Pucker Powder Party Machine
Your kids and guests will have fun making their own party favors from five powder flavors with the Pucker Powder Party Machine. Each rental comes with 30 6′′ tubes to create your own layered candy creation.
---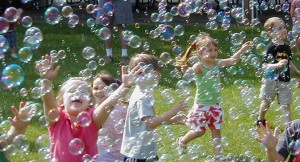 Bubble Blaster
Let us create a Bubble Storm at your next event. A great addition for any event to add a whimsical touch or to amaze the little ones with a Bubble Shower. The Bubble Blaster is adjustable to create a few bubbles or a complete storm.
---
Sky Dancers
Grab attention for your event or business with our friendly Sky Dancers.
Got a question? Check out our FAQ page, and be sure to contact us online to reserve your amusement rentals today!