Obstacle Courses
AMAZON EXTREME OBSTACLE CHALLENGE
Challenge your fellow explorers to the crawling, climbing, sliding challenge of the Amazon in this huge 26′ x 45′ obstacle course! Or create a 90′ or 135′ straight challenge! The Amazon can also be a backyard water park!
---
CHOO-CHOO CHALLENGE
All aboard! This 60ft long train carries little passengers on a bouncy journey through its fun-filled cars. Bouncy house engine, slide & obstacles make an exciting excursion.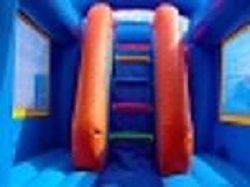 ---
CIRCUS OBSTACLE CHALLENGE
Climb up, slide down, jump, squeeze through and crawl over obstacles in this beautiful circus-themed obstacle course. 51′ of inflated fun for kids 2-12. (But big enough for parents to try too)
---
FAST & FURIOUS RACE
34′ of FUN built for a fast and furious race between opponents or just plain old bouncin' fun with obstacles to challenge you.
Great choice for ages 5 – adults.
---
ADRENALINE RUSH
See if you have what it takes to complete this huge two-person obstacle course! Dive into the entrance, squeeze through logs, climb over barriers and challenge the rock wall! A great physical challenge for everyone. Perfect for company picnics and events with the teen to adult crowd, but suitable for ages 5 and up. Size:45'x24'x17'H